Difference between revisions of "Irc setup"
m

m

Line 264:
Line 264:
 

* Triclops256

 

* Triclops256

 

* Ximon

 

* Ximon

 
+
 
 
 

Other operators that are almost never online:

 

Other operators that are almost never online:
---
Revision as of 05:04, 29 January 2018
This guide will show you how to use IRC (Internet Relay Chat) and set up an Internet Relay Chat Client (IRC Client).
IRC clients allow you to access IRC, which is a protocol that allows you to connect to servers which host multiple channels, which are like chat rooms. It's a very powerful protocol that is extensible and can be used in a variety of ways.
For the purposes of this guide, though, we'll focus on joining The Powder Toy's primary channel.
For those of you who know how to use an IRC client, it is on .
If you can't be bothered setting up an IRC client, or are on a computer where you can't install or download a program, go here: Freenode Webchat
Read this page to learn about IRC safety: Internet Relay Chat Safety
This should be common sense, but read it anyway. Don't accept any files over DCC (IRC's file sharing protocol) from someone you don't know.
Setup
For the purposes of this guide, we will be using HexChat. There are other IRC clients that are suitable for other purposes, for example, mIRC has its own scripting language (shareware), irssi and weechat are text-only (CLI), and clients like freenode WebChat (qwebirc) or KiwiIRC run in your browser.
Most gui IRC clients will be easy to use for most users and should be similar to HexChat, so the instructions provided below will provide help regardless of your client choice.
1.
Linux clients are usually available for you to install via your package manager.
2. Run the installer and follow the prompts. irssi is a command line client that does not require installation.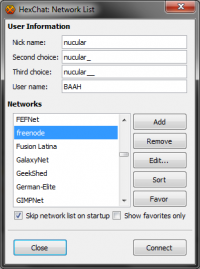 3. Start your client. On HexChat, a small window should pop up where you can set up your nickname(s) and choose a server to connect to.
4. Enter a nick (nickname) to use. This will be your "username", though others may use it too unless you register it (registering will be discussed later). If you wish to change your nick later, just type in /nick [yournewnick] and press enter. Most commands on IRC are prefixed with a "/" (forward slash). There is a brief list of commands below.
5. On HexChat, select "freenode" from the server list (you can start typing to search) and click on "Connect". On clients without a server list, enter "irc.freenode.net" and port 6667 or 6697 for SSL. If it asks for both in one textbox, type in "irc.freenode.net:6667" or "irc.freenode.net:+6697" for SSL. Also, if using SSL, select the option to use SSL, the option may be something similar to "Use SSL on all servers for this network".
6. If you chose another client, type in /connect irc.freenode.net into the text box and press enter. You might need to enter /connect irc.freenode.net:6667 or /connect irc.freenode.net:+6697 for SSL. Your IRC client might also just have another GUI shortcut for this server. If so, you can use that.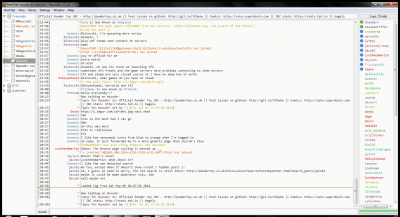 You have now connected to a server network. This network hosts thousands of channels (chat rooms) you can join. The Powder Toy's official main channel is #powder (all channels are prefixed by one or more #). To join #powder or #powder-social, simply type in /join #powder or /join #powder-social in the text box and press enter. You may see a list of the users at the right (View > Window > Userlist or similar for some IRC clients). Type in /names if you cannot find the userlist, or simply /n on irssi.
IRC Netiquette
1. It is common courtesy to address a message to a specific user (that's not in a private message (also known as a query - more on that later)) with their nick followed by a colon and then the message, because this highlights them (more on highlighting later). For example, raj-k: You are the most awesomest person that ever existed.. You can type the first few letters of a name ("jac") and then press tab to tab complete a name ("jacob1")
2. Try not to spam up the channel with anything - either nick changes, repeated disconnections and connections, or regular spam. If you want to talk to a specific group of friends, create a channel for yourself (see the /join command below, on the Commands subsection).
Our Channels
This is a list of official #powder channels:
Note: the table isn't show up in the right spot, does anyone know how to fix this?
| Channel | Description |
| --- | --- |
| #powder | The main channel |
| #powder-social | Off topic banter (not that #powder would be on-topic most of the time) |
| #powder-dev | Development discussion (rarely used). Bug reports should go in #powder. |
| #powder-bots | Bot testing channel |
| #powder-moo | Bot testing and spam channel |
| ##powder-mc | Minecraft relay channel |
| #powder-forum | Forum posts are reported here as they happen |
| #powder-saves | New and updated saves are reported. |